ECM Casa V Espresso Machine
$999.00
The Casa V from ECM is the premier semi-automatic machine, and we're happy to say it's best-in-class under $1000. German design and Italian craft reflect in the clean, exquisite construction expected from ECM, inside and out.
Compare
The ECM Casa V is a compact espresso machine, which consistently pours out delicious coffee and with its adjustment features, it works as your very own barista. The compact size makes it ideal for use in small kitchens, with low countertop space. The ECM Casa V uses the same brewing system found in high-end espresso machine, and the espresso brewed is delicious and also stays consistent even after regular use.
Saturated Group Head – The Casa V group head is essentially surrounded by an extended section of the boiler. This means they warm up much faster than E61 group heads and hold a specified temperature more precisely.
Rapid Heating Boiler – Made from high quality brass, the brew boiler has a 0.4L capacity, and heats to brew temperature in approximately 5 – 7 minutes. Likewise, transitioning to steam temperature takes roughly one minute. Boiler insulation helps to maintain temperature while reducing energy consumption.
Commercial Style Steam Wand – The commercial style steam wand is fully articulated for easy positioning and fitted with a rubber elbow to prevent accidental burns. The two holed tip allows you to perfectly froth milk to your preferred texture.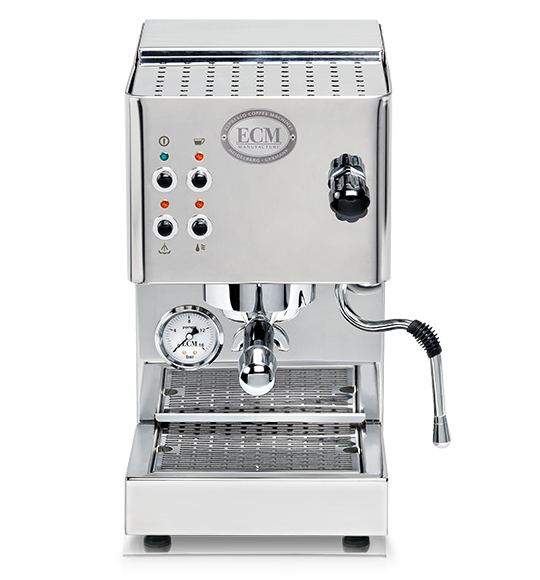 Vibration Pump and Adjustable Brew Pressure – Brew pressure can be adjusted manually to fine tune optimal optimal conditions for brewing. The front mounted pressure gauge allows you to monitor pump pressure and make refinements as needed.
Single Boiler – If you're an espresso purist who likes the occasional cappuccino on the weekend a single boiler is the machine for you. Single boilers take less time to heat than their larger dual boiler and heat exchanger relatives. They also have smaller footprints and offer a more espresso focused experience.
Water Reservoir – The ample water reservoir can hold up to 2.8 l / 94.6oz and can be accessed from the top of the machine.